Teaching Methodology
Teaching Methodology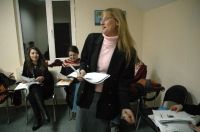 International House Tbilisi uses an up-to-date communicative and task-based approach to language learning. Lessons are conducted entirely in English and the teachers' aim is to develop communication skills through oral and written comprehension and production skills. Teachers use text-books, audio and video in class along with real-life material such as newspapers, magazines, television and the Internet. Language is always presented in context, using everyday situations. Authentic material gives students valuable insights into cultures and societies around the world – at the same time developing students' linguistic and communicative skills.
Student-Centred Learning – at International House Tbilisi we believe students learn faster and more efficiently if they feel that they are at the centre of the learning process. Our experienced teachers use a range of techniques to involve learners in task-based activities such as discussion, role-play, puzzles, games, problem-solving, surveys etc.
Motivation is at the centre of mastering any new skill and learning a new language is no exception. Students will want to study if the topics and issues are relevant, interesting and up-to-date. Providing this kind of material is exactly what we try to do at International House Tbilisi.
Challenge and Assessment – to make real progress people need to be challenged and our teachers encourage their students to move forward and not be afraid to experiment with new language and structures. Our teachers are on hand either in the classroom or via email to give feedback on completed tasks and advice on making improvements. In addition students are assessed regularly so they can see themselves how much progress they have made.
All-Round Skills Improvement โ€" our communicative approach means students are given ample opportunity to practise their speaking and listening skills. Whilst there is an emphasis on these areas, we realise the importance of all-round language skills and our teachers spend a considerable amount of time developing studentsโ€™ reading and writing abilities.