School Profile
Schoolย Profile
International House, founded by John and Brita Haycraft, began teaching English in 1953. Since then the International House World Organisation (http://www.ihworld.com/) has become the worldโ€™s largest and most respected learning, teaching and teacher training institution with 160 schools inย 60 countries around the world.
The International House World Organisation (IHWO) supports this network of language schools to provide the highest quality of language learning and to promote innovation and standard setting in language teaching, learning and teacher training.
International House Tbilisi is the leading language solutions provider in Georgia and its goal is to promote excellence in language education.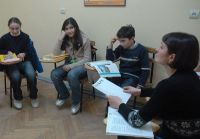 What do we do?
We teach English
We train teachers
We train executives
In 1990ย International House Tbilisi became the first International House World Organisation affiliated school in the former Soviet Union. It is now the largest English language school in Georgia for General English/Intensive and ESP teaching, preparation for Cambridge Examinations IELTS and TOEFL and Teacher Training.
International House Tbilisi is situated in a central location within easy reach of all kinds of public transport. The school has 15 classrooms, a lending library, computer self-access room, bookshop and cafรฉ.
Our students enjoy learning in the vibrant and friendly atmosphere of International House Tbilisi. So whether you would like to learn English for business or pleasure, or teach English, we have the course for you.