Our Teachers
All our teachers hold internationally recognised teaching qualifications (CELTA, DELTA, TESOL, TESOL Dip.), and are professional and experienced in providing students with lessons that are both instructive and enjoyable. International House Tbilisi has on its staff both local and native-speaker teachers, and being committed to high-quality teacher development, organises in-house training seminars and workshops every two weeks. These enable teachers to share their experiences and enhance their techniques and skills, so that the high standards of teaching that International House Tbilisi is so proud of can be maintained and improved. In addition the Director of Studies and Senior Teachers are always on hand to provide on the spot advice and guidance.
Some of our Teachers:
Manana Khvichia-ย Director of Studies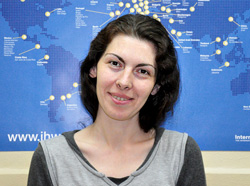 Manana began life at IH as a student learning English until she passed CAE. She enjoyed studying English at IH so much that she then took the Cambridge CELTA teaching qualification and became an IH teacher herself. After taking the DELTA qualification at IH Poland, she became a Cambridge FCE & CAE examiner and then became a Cambridge CELTA teacher trainer. She is also a Business English and Advanced Methodology trainer for IH World, both face-to-face and online. She has mostly worked at IH Tbilisi, but also worked for three years at IH Kiev.
Manana is from Tbilisi and enjoys reading books and hanging out with friends in cafes.
Ross